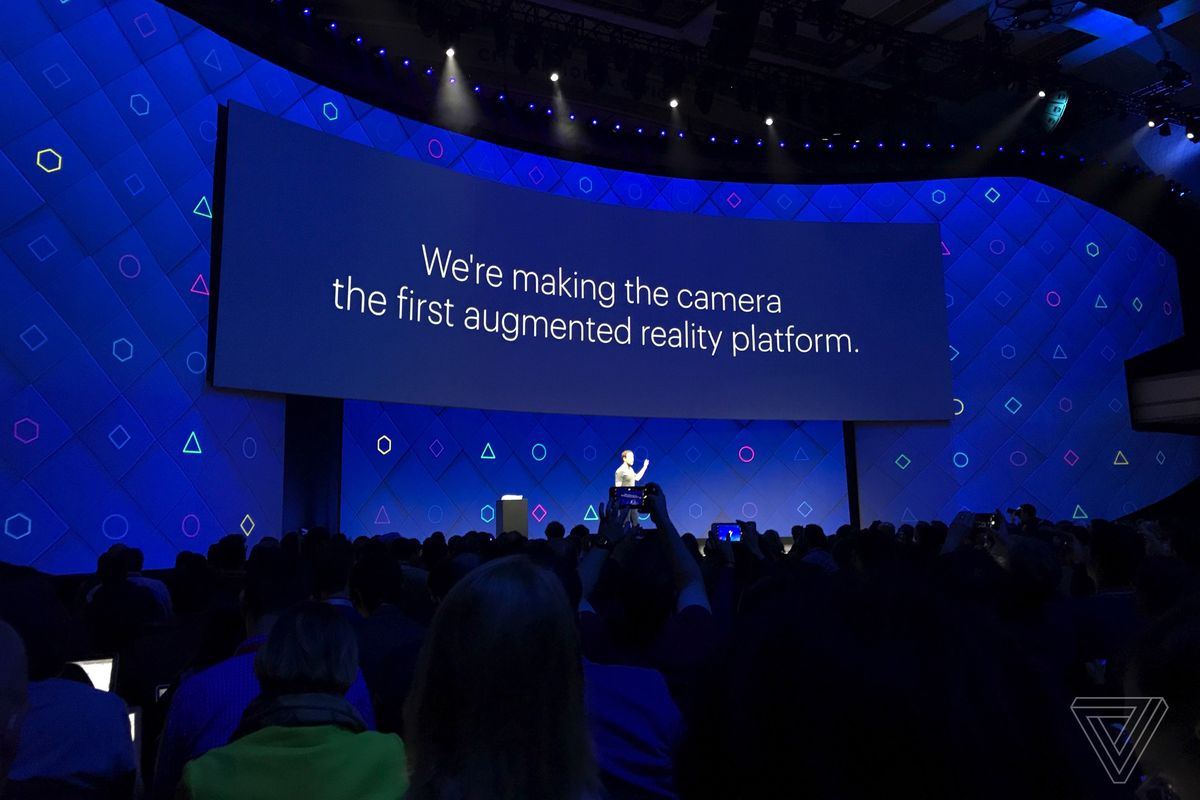 Facebook's developer conference, F8, gives a look at the future of technology and how Facebook "connects the world through products and innovation," as stated on the event's website.
Facebook used its F8 developer conference to launch two frameworks – one for Android UI, and the other for VR.
The big focus of the day was the Camera Effects, which means facebook will allow developers to contribute animated and augmented reality selfie masks and other experiences to Facebook's newly launched camera.
The apps that billions of us use daily—Facebook, Messenger, WhatsApp, Instagram—are going to be getting new camera tricks, new augmented reality capabilities, and more bots. So many bots! (Also, so many breakfast sharks.)
Facebook will be launching Messenger bots for group chats. These will let you and multiple friends stay up to date via newsbots that share a ticker of a sport's match play-by-play or get updates on a group food order such as progress in the kitchen and when the delivery should arrive.
Here are some of the most important announcements made by Facebook in F8
01 – The Camera Is Everything
The camera is now the most important thing on your phone. Sharing photos and videos with your friends will continue to be huge. From today onwards the camera will begin powering new augmented reality experiences inside Facebook (it's already in beta version, you can check now.. it's pretty awesome). You'll get games and photo filters, and your surroundings will soon be awash in playful and informational metadata that you can only see by lifting up your handset, opening the Facebook app, and viewing the world through the camera. Developers are also encouraged to create augmented reality experiences so that more and more users can use it and create a community.
Facebook's new augmented reality devices will give you a chance to put virtual objects into this present reality when you see your surroundings through your mobile. We'll get AR recreations that join certifiable items because of an innovation called "SLAM" (simultaneous localization and mapping) that lays a 3-D network over the table before you, transforming it into a game board.
The Camera Effects platform is Facebook's attempt at making photos and videos more Snapchat-y. Released today, Frame Studio and AR Studio are tools that enable developers and artists to create AR content. Frame Studio allows devs to make 2D overlays—similar to Snapchat geotags—that reside on the borders of the photo or video. The AR studio lets developers create 3D masks that track and respond to facial movement (like Snapchat's Dog mask, which sticks out its tongue when you open your mouth) without having to write any code.
02 – VR Gets Social
Social VR comes to life with the new Facebook Spaces, a virtual reality app that lets you create a cartoonish avatar of yourself and hang out with friends inside your headset. What you do in this virtual world remains to be seen. Throw a birthday party and draw 3-D party hats on your guests? Visit the International Space Station and take selfies from orbit? The app launches today as a beta. Interactive and fun social experiences foster greater consumer engagement in VR. This talk will focus on the APIs and features that Oculus provides to add a social layer to your app, including the Avatar SDK, VoIP, Invites, and Oculus Rooms.
Facebook Makes its React VR Opensource
React VR is, as you might have guessed, Facebook's new framework for virtual reality. Just like its namesake, it's based on JavaScript and takes inspiration from React to allow developers to use a similar declarative model to write VR apps.
The framework uses popular and widely-available existing web technologies such as WebGL and WebVR to reach a large number of users while ensuring full interaction with the sensors of a variety of devices. Rather than focus on building games, React VR is currently designed to combine 360-degree panoramic content with 2D user interfaces, text, and images.
You Can get React VR Framework on GitHub
03 – Music and Games in Messenger
Facebook's making Messenger the place to talk to your friends. New integrations bring games and music into the platform so you can share the latest songs or launch a Words With Friends match—without ever closing your chat window. The full potential depends on what developers bring to the table, but for now, Messenger is synced up with Spotify and will get integration with Apple Music soon.
More bots for Messenger groups, and a platform so outsiders can build more features for the Facebook camera. Whenever you want to have food. Your favorite restaurant pops up, you browses the menu and adds your desired items to the cart, and the bot handles the mobile payment. You'll begin seeing many more of these types of interactions as Facebook expands the role bots play within Chat Extensions.