Ecommerce sOLUTIONS
Custom. Framework. Simple.
Every commercial enterprise now has the opportunity to extend its reach to millions of potential customers through electronic or eCommerce. Online shopping cart solutions enable companies to sell their goods and services to anyone who has access to the Internet, anywhere.
New eCommerce sites are launched every day, and their market share is growing exponentially. In the United States alone, consumers spent more than $40 billion shopping online during just the holiday season. eCommerce sites come in all shapes and sizes, ranging from consumer-based retail sites to file-sharing and auction sites and business exchanges trading goods and services. What they have in common is that, to be successful today and into the future, businesses must be able to sell efficiently online.
What can an eCommerce solution do for you?
eCommerce eliminates the barriers of time and distance and allows consumers to shop, make their selections and purchase wherever and whenever they want. An eCommerce solution is an ideal way to grow your business economically, without a large investment in retail real estate. Many entrepreneurs have achieved great success by creating an online shop for a business concept that would be impractical in the brick-and-mortar shopping mall.
The right eCommerce solution is the one that matches the strengths and requirements of your business model, and that your customers find inviting and simple to use. You don't have to be a big corporation to profit from eCommerce. You just need an eCommerce-enabled website that fits the way your customers prefer to buy.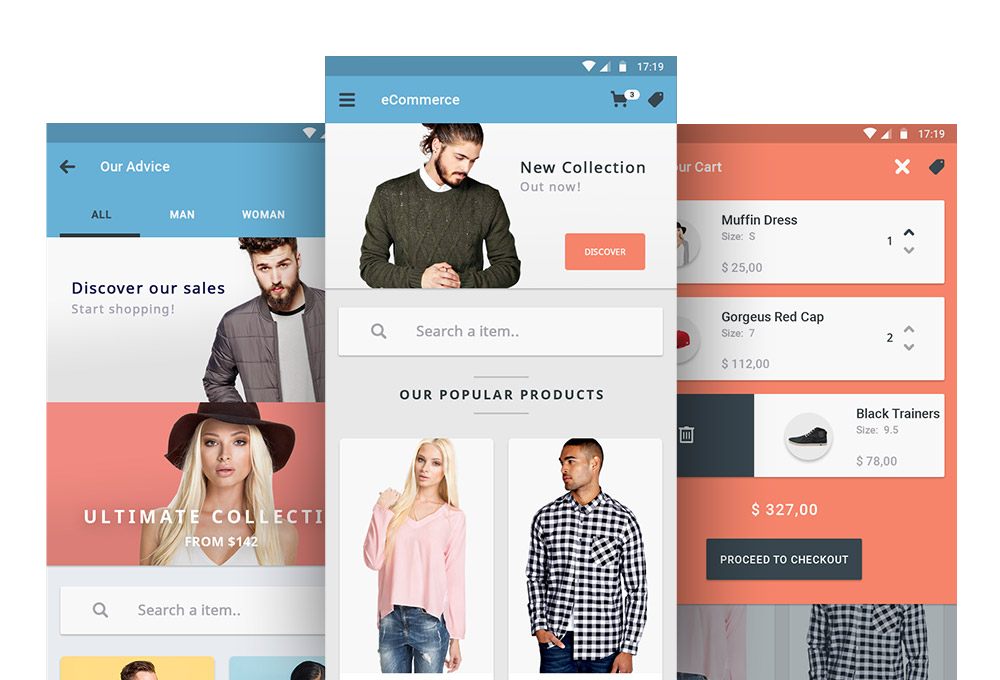 How we can help you with eCommerce development ?
Over the last four years, we have built online storefronts for more than 200 businesses of all kinds — selling everything from pet accessories to comic books, carpets, car accessories and much more. One such store, offering customized doormats, recorded sales of more than $50,000 in the first two months after its launch. Our web developers specialize in all the top e-storefront applications, including:
Type of E-Commerce Sites
We start with the cart best suited for your business and then customize for your specific requirements to give you the competitive edge.
Whether you are a small business trying to build an online presence from scratch or an established one looking to increase conversion and sales on your existing eCommerce website by overhauling its content, our experienced web designers and developers provide you with the expert analysis and winning strategy you need to succeed online. From the user experience to navigation and overall architecture, we specialize in creating a look and feel for your website that will amaze your customers.
Custom Shopping Cart
Based on your specific products and sales process, we customize the Shopping Cart methodology and experience so that your shoppers follow through and buy what they put in their carts.
Product Catalog
We develop custom online catalogs that accommodate multilevel product categories, customizable product layouts, advanced product options (choices of colors, sizes, etc.) and option-based pricing, together with control systems that keep everything working smoothly.
Order Management & Payment
We can create a flexible eCommerce platform that allows you and your customers to view orders securely online. You can set order status, view order history, generate an invoice or even complete pending transactions.
Find out more
Put our skilled web designers to work building your ideal eCommerce storefront. Contact us today.